MNE 2012
.
WELCOME TO MNE 2012, TOULOUSE
MICRO AND NANO ENGINEERING (MNE) IS AN INTERNATIONAL CONFERENCE ON MICRO AND NANO FABRICATION AND MANUFACTURING USING LITHOGRAPHY AND RELATED TECHNIQUES.
The conference brings together engineers and scientists from all over the world to discuss recent progress and future trends in the fabrication and application of micro and nano structures and devices. The conference proceedings are published in the journal "Microelectronic Engineering". MNE 2012 in Toulouse will be the 38th conference in a series that started in Cambridge in 1975.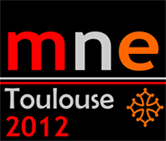 To learn more about our sister conference MNE 2012,  visit http://www.mne12.org/